Description of Venue & Hotels


Conference Venue
Hotel Descriptions


The Mena House Oberoi Hotel and Casino is situated at the foot of the great Pyramids of Giza and at the intersection of the Pyramids road with the Cairo/Alexandria highway. In its 40 acres of jasmine scented gardens with the Great Pyramid towering above, the Mena House has been enchanting distinguished guests ever since it opened in 1869. The rolling lawns and tranquil setting of the Mena House gardens coupled with the hotel's enviable reputation for service have made it one of the most sought-after venues for conferences, major functions , receptions and seminars. The banquet and conference center offers meeting space for over 1,000 persons that can be subdivided into four self-contained auditoria, an exhibition area, a banqueting area and three additional rooms that can accommodate 50-100 persons each. One of the joys of staying at the Mena House and surrounding hotels is that so many monuments are but a stone's throw away.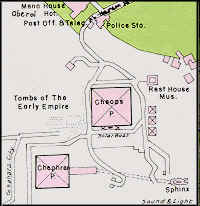 Map showing the Location of the conference venue in Giza
Directions To Mena House Oberoi from Cairo International Airport:
The hotel is 25KM from the Cairo airport and the journey takes approximately 30-45 minutes depending on traffic.
A complimentary FREE service provided with the hotel accommodation package booked through Star of Egypt Travel. Representatives from Star of Egypt Travel will provide Meet & Greet service at Cairo airport and will assist with immigration and customs formalities upon arrival at Cairo airport and onward transfer to Hotel. The same service will be granted upon departure. Please ensure that your flight details are clearly specified in your reservation form.

TAXIS

All airports in Egypt have a taxi service to city centers, operated on a flat fee basis.

In Cairo transport includes limousine, taxi, and bus. Curbside limousine service is also available. The taxi will cost US$20 and a Limousine US$ 25 per way.
PUBLIC BUS

The Airport Bus Service operates from Terminal 1. The bus leaves when full and stops at

Midan Tahrir in downtown Cairo, in Mohandeseen, and along Pyramids Road in Giza. There

are also regular city buses but they are not recommended for they are often too crowded.

Messages and E-Mail

Participants and conference organizers may be reached during the conference at the Mena House Oberoi Hotel on the Following Numbers.
Tel: +20 2 383 3222
+20 2 383 3444
Fax: +20 2 383 7777
E-Mail:
obmhosm@Oberoi.com.eg
(attention: VLDB 2000)
ALL correspondence must be clearly labeled "TO VLDB 2000" and the name of the recipient.
The Mena House Oberoi (VLDB 2000 Venue) 5 Stars Deluxe
The conference main venue hotel, the Mena house Oberoi is ideal for businessmen, perfect for holiday makers and a positive jewel for Pyramid watchers. Above all it is an entertaining hotel and as the evening draws in, there are a host of things to do. Every room at the Mena house is fully air-conditioned, with color and closed circuit TV, mini bar, direct dial telephone. Every room is handsomely appointed with a beautifully marbled bathroom en-suite complete with a full range of personal toiletry, bathrobes and king-size tubs and most of the rooms have their own balconies. 20 minutes by car from downtown, the Mena house Oberoi is a positive Oasis of quiet good taste, luxurious living and delightfully attentive staff.
Le Meridian Pyramids (5 Stars Deluxe)
Located 10 Kilometers South of Cairo and only 5 minutes by car from the Mena House Oberoi and 15 minutes to downtown Cairo. The hotel has superb views of the Giza Pyramids and is beautifully set in it's own tropical landscaped gardens. It has a large swimming pool with a waterfall, 4 hydro jets units, special pool for children and a Health club that has a full selection of Health and Fitness activities. Other services: non smoking rooms, rooms for disabled, shopping arcade, laundry, in house doctor, business center.
Sofitel Sphinx (5 Stars Superior)
Situated at the foot of the pyramids, Sofitel Sphinx offers its guests the pleasure of savoring all the good living a "l'Egyptienne". The hotel spreads over 3 acres of lush and quiet oasis overlooking a spectacular view of the pyramids with 310 sq. meters pool and a wide variety of gourmets restaurants and entertainment outlets. The hotel has one of the largest and most equipped health spas in Cairo with Jacuzzi, Sauna, massage and aerobic classes. It could be the healthiest and most enjoyable stay you've had for years.
Pyramids Park Intercontinental (5 stars Superior)
The hotel is ideally located to enjoy the historical attractions amidst elegant majestic palms set in lush landscaped gardens. The hotel offers its guests top class service in a comfortable and relaxed setting with all rooms overlooking its magnificent pool. As an Inter-continental Global partner resort, the hotel provides a high standard of hospitality and excellence. All rooms are equipped with cable TV, direct phone, mini bar and 24-hour room service. A variety of dining possibilities offers a culinary experience for every discerning palate.
The Oasis Hotel (4 stars Superior)
Only few minutes by car from the Pyramids and the Sphinx. The hotel has 250 rooms with A/C, a private bathroom, a direct phone, TV with Satellite channels, and a mini bar. You can have a light meal on its large pool or make around the world trip in one of its 4 oriental and intercontinental restaurants offering a variety of Foods. You can also enjoy Tennis, basketball, volley ball and ping pong in its open air courts.
Les Trois Pyramides (Four Stars Standard)
Distinguished Four stars hotel (modern architecture) with 230 comfortable rooms and suites tastefully furnished, each equipped with A/C, private bath , TV, radio, direct dial telephone. Gourmet restaurants with 24 hours services. Swimming pool, sauna, and body massage facilities. 10 minutes taxi ride from the conference venue.