Berlin is a city where the delicate threads of Jewish history and culture interweave into an intricate web. Some places stand as a stark reminder of the obliteration of what was once vibrant Jewish life. The Wannsee villa, the loading ramp at Grunewald S-Bahn station and the "Topography of Terror" permanent exhibition. Others are testimonies of the Jewish past – Ephraim- Palais, the New Synagogue, Jewish cemeteries in Mitte and Weißensee – or the focus of its Jewish present: the Jewish Community Centre, the offices of the Central Council of Jews in Germany, seven active synagogues, the Jewish "Volkshochschule" and the Jewish Museum.

How to get there: U-Bahn and S-Bahn station Friedrichstrasse; S-Bahn station Hackesche Markt, Bus numbers 100, 157, 348 (Lustgarten), 147 (Universitätsstrasse)



Oranienburger Straße
Visitors to the area around Oranienburger Straße will find several Jewish institutions, a number of restaurants and cafés offering Jewish specialities, a Jewish gallery and the kosher restaurant Beth- Café, which is operated by the Adass Jisroel Community. Each of these establishments has helped restore a bit of the area's former atmosphere.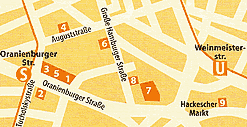 1 New Synagogue
2 Beth-Café
3 Rimon
4 Kolbo
5 Café Oren
6 Memorial Große Hamburger Straße
7 Jewish cemetery
8 Jewish secondary school
9 Hackesches Hoftheater


Große Hamburger Straße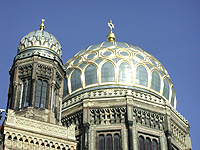 Around the corner from Oranienburger is Große Hamburger Straße. This short street which once epitomized Jewish life in Berlin in all its diversity, also bears witness to the Nazis' determination to extinguish it. Today, the location of the Jewish old people's home, which the Gestapo had turned into a deportation centre, has become a monument commemorating the victims of the transports to ghettos and extermination camps. This was also the site of the city's oldest Jewish cemetery, burial place of 18th-century philosopher Moses Mendelssohn. The building of the former "Jewish boys' school", just next door, now houses a Jewish secondary school which was inaugurated in 1993. The name of the original institution can still be seen inscribed above the entrance. Walking tours of Jewish Berlin focus on the area behind the Hackesche Höfe. In one of these "Höfe", a series of interlinking courtyards, is the Hackesches Hoftheater, a popular venue for Yiddish music and Yiddish theatre.

Synagogue at Rykestraße 53, Berlin-Prenzlauer Berg: The oldest of the Jewish Community's six synagogues. In the years of Berlin's division, it was the only synagogue used in the eastern part of the city. The Neo-Romanesque brick building was erected in the courtyard of the property between 1902 and 1904. The building facing the street houses the Jewish education centre of the Lauder Foundation. This conservative synagogue was desecrated, but not destroyed, in the 1938 pogrom night. lt was restored in 1953.
Synagogue at Pestalozzistraße 14, Berlin-Chadottenburg: Erected in 1911/12 in German medieval style, a red brick building which, after its reconstruction, was re-consecrated in 1947. Liberal rite with organ and mixed choir.
Synagogue at Fraenkelufer 10, Berlin-Kreuzberg: Only the side wing (formerly the youth synagogue) of this building, erected at Kottbusser Tor between 1913-1916, has survived. Conservative rite.
Synagogue at Joachimstaler Straße 13, Berlin-Charlottenburg: The Jewish Community's orthodox synagogue.
Synagogue at Herbartstraße 26, Berlin-Charlottenburg: Liberal synagogue in the Jewish Community's old people's home, inaugurated in 1981.
Synagogue at Oranienburger Straße 30, 3. Stock, Berlin-Mitte: Egalitarian service.
Synagogue of Adass Jisroel, Tucholskystraße 40, Berlin-Mitte: Services according to the orthodox rite. After its official restoration on 18 December 1989, the Community established a provisional synagogue in the Community's historic building. It intends to rebuild its synagogue, which was torn down after the war.
Weißensee Cemetery, Herbert-Baum-Straße 45, Berlin-Weißensee: The largest Jewish cemetery in Europe, consecrated in 1880. More than 100,000 dead are buried here. Sun-Thu 8 a.m.-5 p.m. (November to March 8 a.m.-4 p.m.), Friday and eve of Jewish holidays 8 a.m.-3 pm, closed on Jewish holidays. Phone +49(30)925 08 33.
Cemetery of the Adass Jisroel Community, Wittlicher Straße 2, Berlin-Weißensee: The cemetery was opened in 1880 and has approximately 3,000 graves. The reconstructed funeral chapel was consecrated in 1991. Appointments to visit this cemetery can be made at the community office.
Scholzplatz cemetery (Heerstraße), Trakehner Allee 1, Berlin-Charlottenburg: Established in 1956. Along its main avenue are a few precious medieval graves from the old Spandau Jewish graveyard (found in the course of excavations).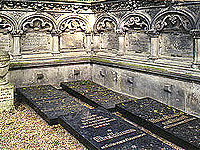 Cemetery at Schönhauser Allee 23-25: Berlin-Prenzlauer Berg – Jewish Community cemetery since 1827 and burial place of well- known Berlin artists and performers, industrialists and scholars. Mon-Thu 8 a.m.-4 p.m., Fri 8 a.m.-1 p.m., closed Saturdays, Sundays and Jewish holidays. Phone +49(30) 441 98 24
Große Hamburger Straße: Jewish Community cemetery since 1672; destroyed by the Gestapo in 1942.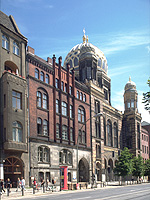 New Synagogue Berlin-Centrum Judaicum
Oranienburger Straße 30, Berlin-Mitte – The New Synagogue, consecrated in 1866, was the largest and grandest place of Jewish worship in all of Germany. It was rebuilt in Moorish style and stood as the self-assured expression of Berlin's well-established Jewish middle class. The synagogue was saved from major damage in the November 1938 pogrom but partially destroyed by bombs in 1943. Starting in 1988, parts of it were restored. A permanent exhibition – "Open the Gates – The New Synagogue 1866-1995" – presents the history of the building and sheds light on aspects of Jewish life in Berlin closely connected to it. The centre also holds temporary exhibitions and has an extensive archive on Jewish history.

Sun-Mon 10 a.m.-8 p.m., Tue-Thu 10 a.m.-6 p.m., Fri 10 a.m.-2 p.m., closed Saturdays and Jewish holidays; guided tours Wed 4 p.m., Sun 2 and 4 p.m. and by appointment. www.cjudaicum.de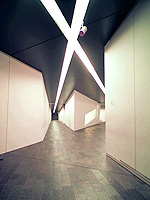 Berlin Jewish Museum
Lindenstraße 9-14, Berlin-Mitte - The Jewish Museum Berlin was inaugurated in Daniel Libeskind's zinc-faced zigzag building in September 2001. The permanent exhibition "Two Millennia of German Jewish History" delivers insight in German-Jewish history and culture from the early days to the present. The museum will also be used as interactive learning centre (the Rafael Roth Learning Center), archive (the Leo Baeck Institute), research centre and venue for public events. By now the Jewish Museum Berlin is counted among the most visited museums of Berlin.
Opening hours: Mo 10 a.m. -10 p.m., Tu-Su 10 a.m. -8 p.m. (Admittance will be granted until 7 p.m. Tuesdays-Sundays and 9 p.m. on Mondays.) www.jmberlin.de

"Topographie des Terrors" Foundation
Niederkirchnerstraße 8, Berlin-Kreuzberg – Documentation and exhibition on Nazi terror and Nazi crimes at the site of the former Prinz Albrecht Palais, which served as headquarters for the Secret State Police (Gestapo), the SS and SS security service from 1933 to 1945 and from 1939 onwards for the Reichssicherheitshauptamt (Reich Central Security Office).
Open daily from 10 a.m.-8 p.m. (May-September) and 10 a.m.-6 p.m. (October-April).


Haus der Wannsee-Konferenz (House of the Wannsee Conference)
In this house, the so called »Wannsee Conference« took place in 1947. This meeting was concerned with the organisation and implementation of "The Final Solution", the decision to deport the Jews of Europe to the East and to murder them. http://www.ghwk.de/.

Memorial to the murdered Jews of Europe
Designated location: Behrenstraße, Berlin-Mitte – memorial designed by Peter Eisenman, E-Mail: info@holocaust-denkmal-berlin.de.
Restaurants serving kosher food
Beth-Café Tucholskystraße 40, Berlin-Mitte,
Phone +49(30)281 31 35,
Sun-Thu 12 p.m.-8 p.m., Fri 11 a.m.-3 p.m., closed on Saturdays
Arche Noah at the Gemeindehaus Fasanenstraße 79-80, Berlin-Charlottenburg,
Phone +49(30)88 42 03 39

Jewish / Israeli cuisine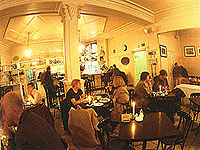 Café Oren: Oranienburger Straße 28, Berlin-Mitte,
Phone +49(30)282 82 28,
daily 10 a.m.-1 a.m.
Rimon: Café Bar Restaurant, Oranienburger Straße 26, Berlin-Mitte,
Phone +49(30)28 38 40 32,
daily 10 a.m.-1 a.m.
Salomon Bagel: Joachimstaler Straße 13,
Mon-Fri 9 a.m.-9 p.m., Sat 10 a.m.-6 p.m.,
Phone +49(30)881 81 96
and Potsdamer Platz Arkaden,
daily 10 a.m.-10 p.m.,
Phone +49(30)25 29 76 26.

More Kosher food

Kosher Deli Goethestraße 61, Berlin-Charlottenburg
Schalom Wielandstraße 43, Berlin-Charlottenburg
oibo (Adass Jisroel) Wine, bagels, ritual articles and souvenirs, Auguststraße 77/78, Berlin-Mitte